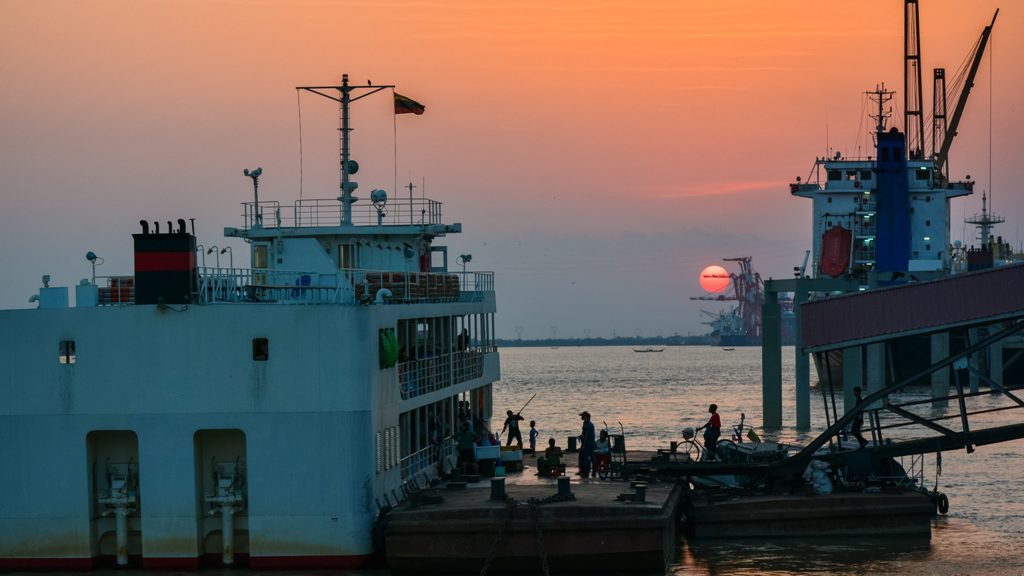 River Sunset in Yangon
River Sunset in Yangon
It's my last day in Yangon and after 3 crazy days of water festival (I couldn't move around freely with my camera), I can finally walk the streets, unafraid of my camera becoming natatorial  like a duck, it's my last chance to capture the magnificent Burmese sunset so I decided  to take a small cruise on the local ferry to the opposite side. The ferry departs the Nanthinda Harbor in downtown and the ticket for foreigners costs about 400 kyats (4$) for return trip, the whole trip is very short and it won't take you more than 5-6 min to get to the opposite side.
My "friends" from the ticket office followed me all my trip and we started to discuss their lives in Yangon, their dreams and future plans about travelling somewhere abroad. On the arrival to Dala (the opposite side) I had to leave them and start looking where to go next, usually on my travels I like to move using a rental motorbike which gives me flexibility and freedom to go wherever I like, in Yangon motorbikes are banned (it's the only city in Myanmar this law appeals to) so I decided to take a tuk tuk for a fast drive around the opposite side, there is an interesting pagoda you can see – Yaza Thingyan Pagoda – but in my short time there I didn't find anything else just as interesting there.
On the way back there was an amazing red sky and sun, I decided to wait a bit on the pier till the sun goes down enough, so I can capture the last light during my crossing on the ferry, this was the last ferry of the day. Upon arrival to the Nanthinda terminal I decided to walk and get lost in the city till the sun goes down completely  to start my night wanders.
(Visited 190 times, 1 visits today)