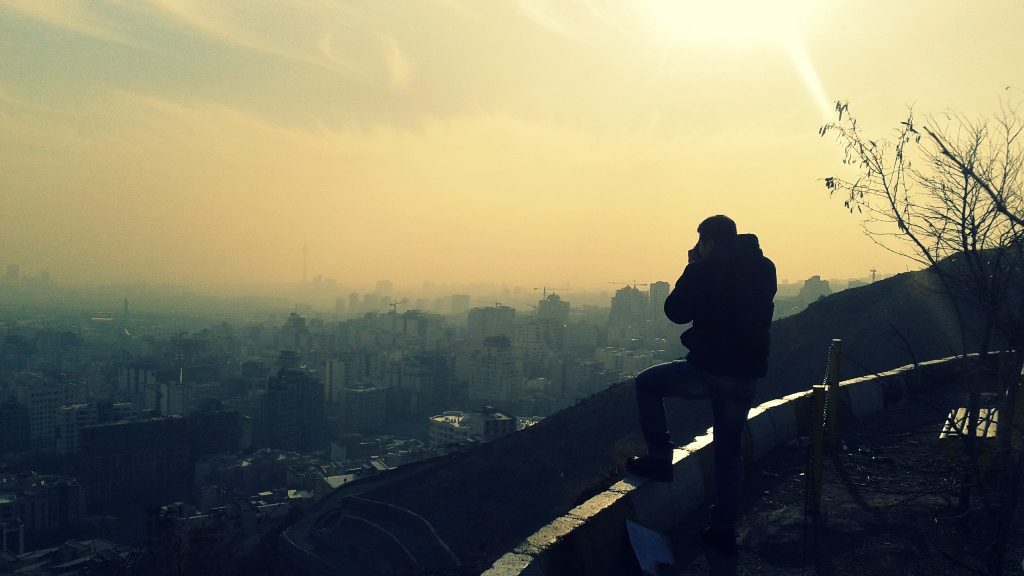 A New Year in undiscovered Tehran, Iran, (Part 2)
A New Year in undiscovered Tehran, Iran, (Part 2)
Museums and sights of Tehran
You can visit numerous museums in Tehran – the country has great history and you will be able to learn a lot for yourself, and the museums entrance fees are really cheap. And, of course, there're beautiful mosque.
The carpet museum. Here you can see the 19th-20th century carpets from Isfahan, Kashan and other ancient cities. The carpets look amazing, most are in great shape, there're are a few huge ones, too. This is real art – there're tiny detailed pictures of animals, birds, trees, vases, star signs, people. The entrance fee is 100.000 rials.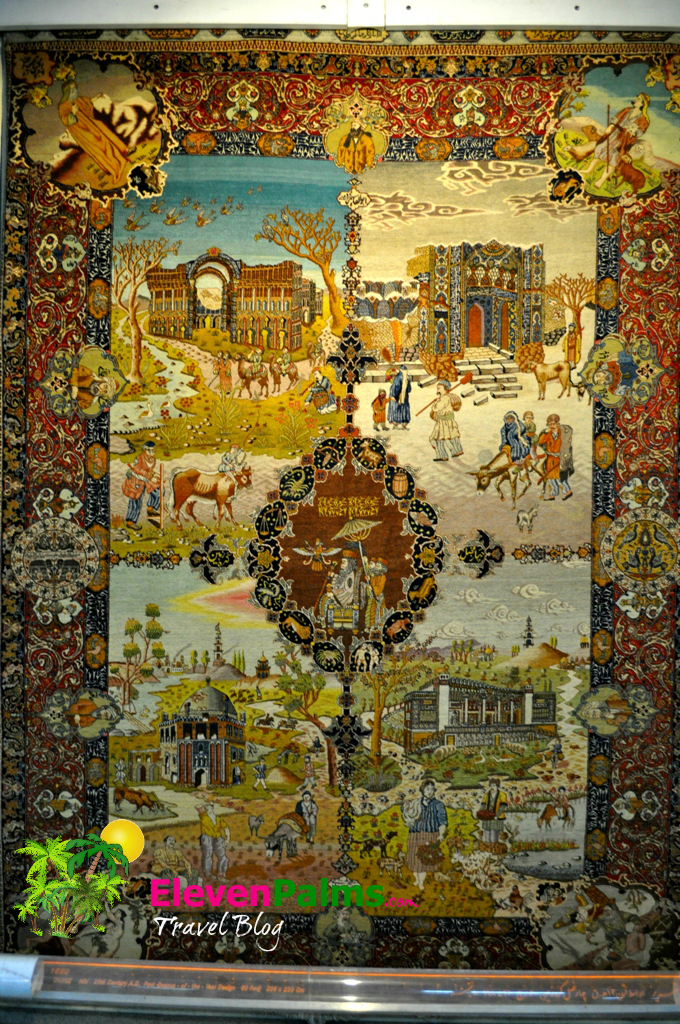 There's also a small gift shop in the hall of the museum and it's the only place in Tehran where I saw fridge magnets (each cost 80 thousand reals). Thought there were also magnets at the airport, but they cost 150.000 rials and they weren't that interesting.
The Museum of Modern Art. If you like modern art, you'll find it interesting here. Different techniques are used in the paintings – there's graphics, colors, prints and even some copper works. Taking pictures there isn't allowed. The entrance fee is 20.000 rials.
You can give a day to museums situated around the Saadi subway station, as all of them are close to one another: the Goleshtan Palace, the Musical instruments museum, the Jewelry museum, the Museum of coins, the National museum and a few others. And at the end of such cultural day you can visit the famous Tehran bazaar that's not far away, but it closes around 5 p.m. The Imam Khomeini mosque – the biggest mosque in the city, is also near the bazaar.
The Museum of musical instruments. It is actually dedicated to a prominent musician named Saba. There're his personal belongings at the museum, the instruments he used to play and a collection of dolls dressed in National costumes made by his wife. The museum employee speaks English and gladly tells about everything. The admission is free.
The Jewelry museum. The entrance is situated at the Central bank of Tehran (the entrance is ornamented with green stones). Cameras, phones and bags are deposited and stored at the entrance. You need to go through several security posts to get into the vault. That's because there's the richest collection of Persian jewelry, things made of gold and precious stones. There's a bed decorated with rubies, swords and knives decorated with turquoise, diamonds, rubies, tiaras, bracelets and other pieces of jewelry. You will never see such a great amount of priceless stones in any other museum of the world. Persian rulers never buttoned up their pockets for themselves. You can buy a book with all of the pieces of jewelry's names in it, as they only have numbers in the museum hall. The entrance fee's 50.000 reals.
At the Azadi square (Maydan-e Azadi subway station, the yellow line 4) there is the Azadi tower, a monument, dedicated to freedom. It is lit with multicolored lights at night. They are turned on at about 7 p.m. There're gift shops that sell souvenirs, paintings and other handmade things at an underground center nearby.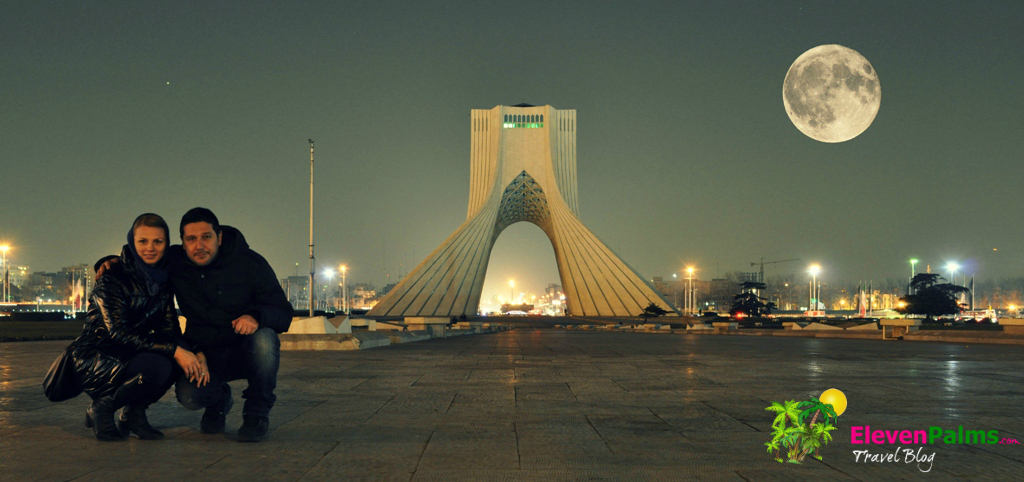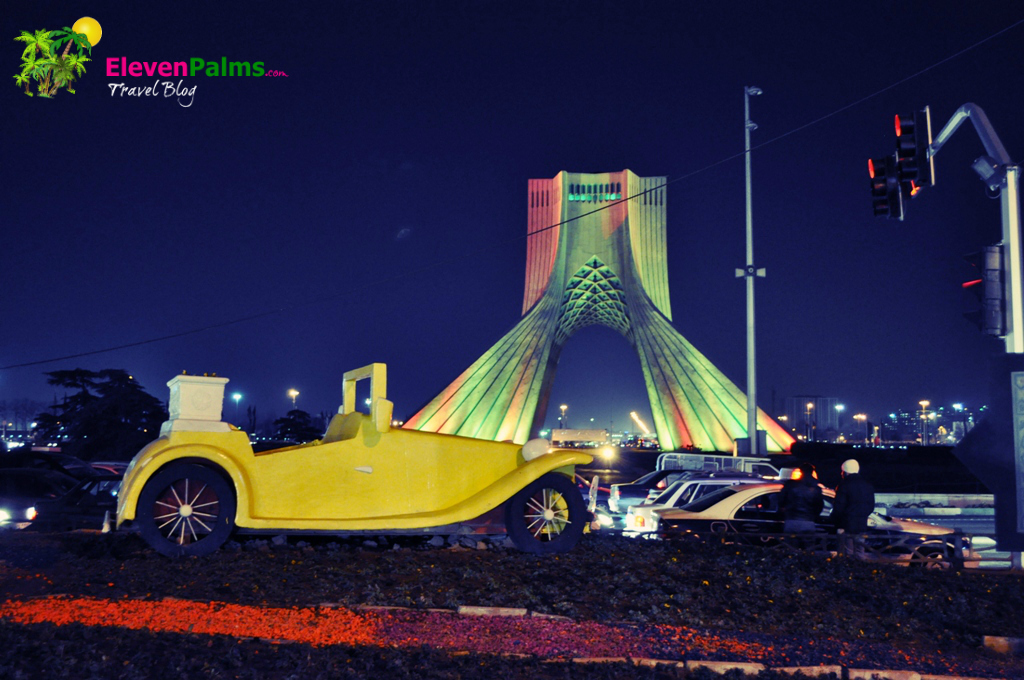 The technology and science museum. This is one rather interesting museum where you can see models of Iranian inventions ranging from the ancient ones to the modern Physics based inventions. The museum employees can describe everything and will gladly tell about them. The entrance fee's 40.000 rials.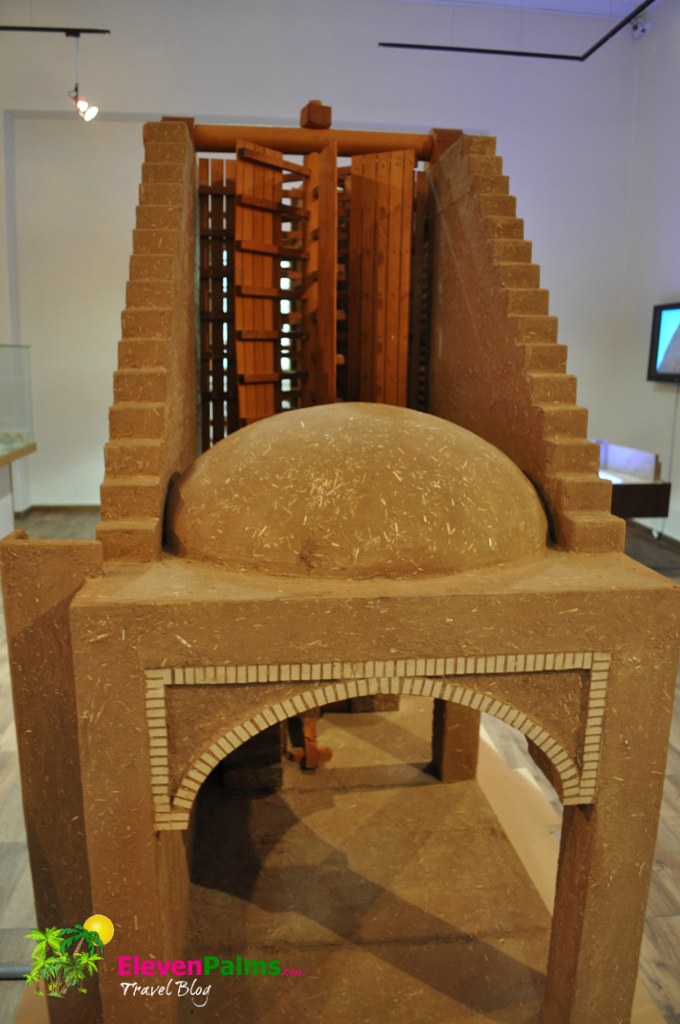 The Iranian National museum presents very ancient exhibits, all in excellent condition. But there's only one floor in the museum, so there aren't many showpieces. The entrance fee is 150.000 rials.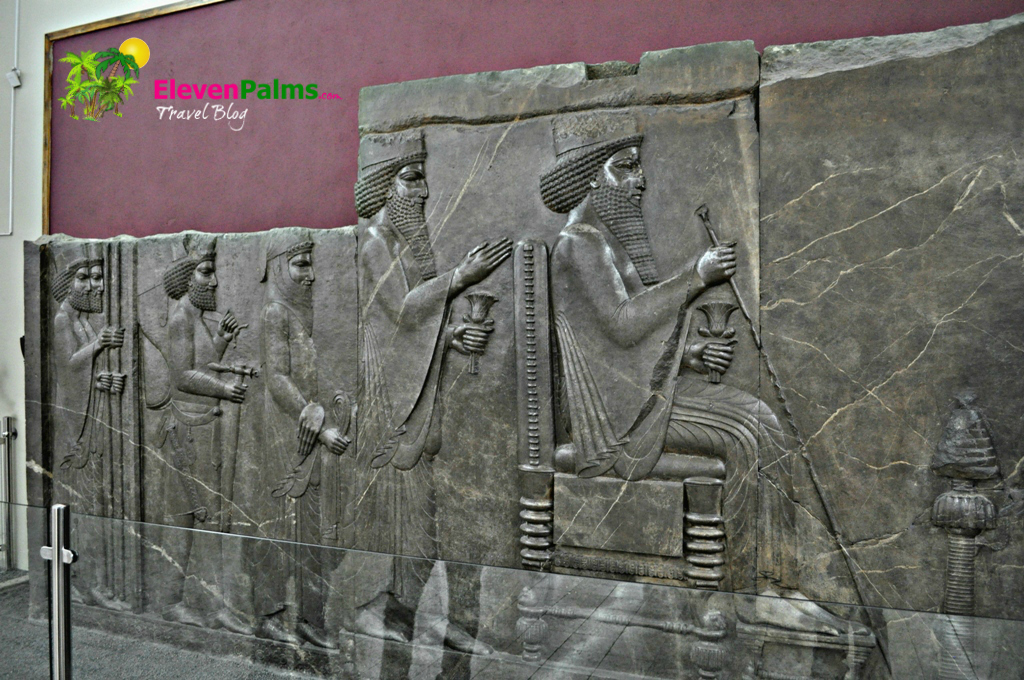 You can also take a look at the former US embassy building in Tehran (Taleghani subway). People made sort of a monument out of it. The walls around the building are covered with graffiti showing the essence of America, it's union with Israel, it's attempts to take over Iran for their own empire. Unfortunately, we didn't manage to get in, as the embassy is open for visitors only at a certain time.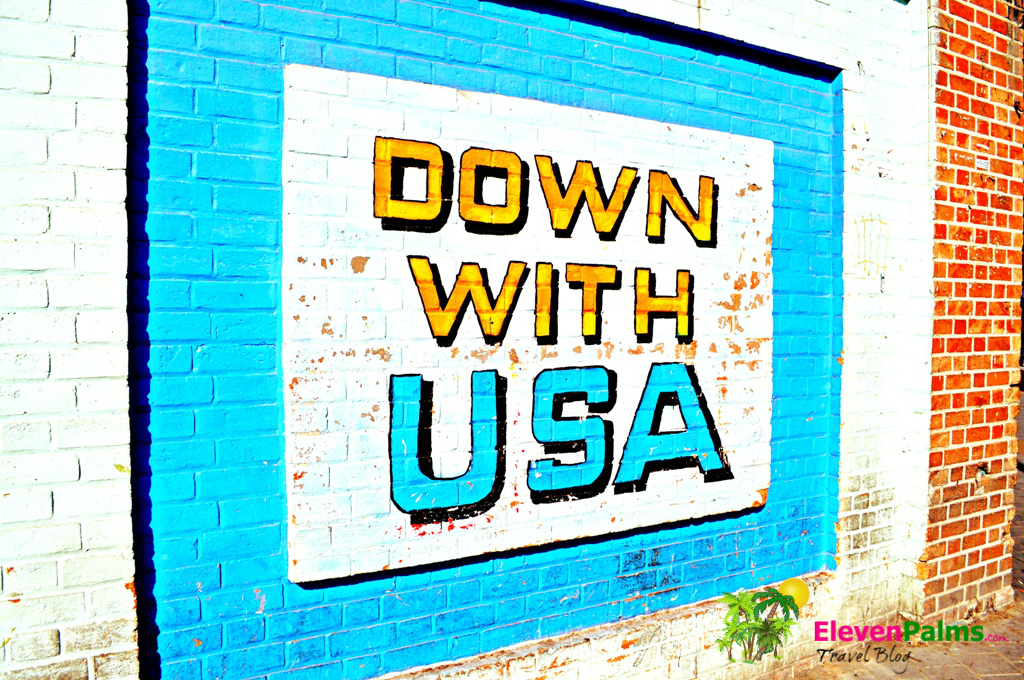 All of the museums in Tehran open at about 8-9 a.m. and close by 4-5 p.m.
Cuisine
It would seem that there wouldn't be much of a choice, but one can tell a lot about the local cuisine. There are many street cafes, fast-food joints or bakeries, where one can always grab a bite to eat. But, all and all, the Iranians aren't big fans of sitting around at cafes, which is why there aren't many placed to sit at there. I reminisce about Iranian bakeries the same way I do about bakeries of Paris. There are tasty buns and bread, cakes, cookies with nuts and other delicious treats, baklava and much more. There are buns with cinnamon and other fillings, big loafs of white bread that goes well both to meat and honey, baguettes. But no excesses – everything's simple, but very tasty. As for the prices, for example, half a kilo of crème filled cakes cost about 30.000 rials, coconut cookies – 120.000 for a kilogram, small cinnamon buns cost 15.000 rials.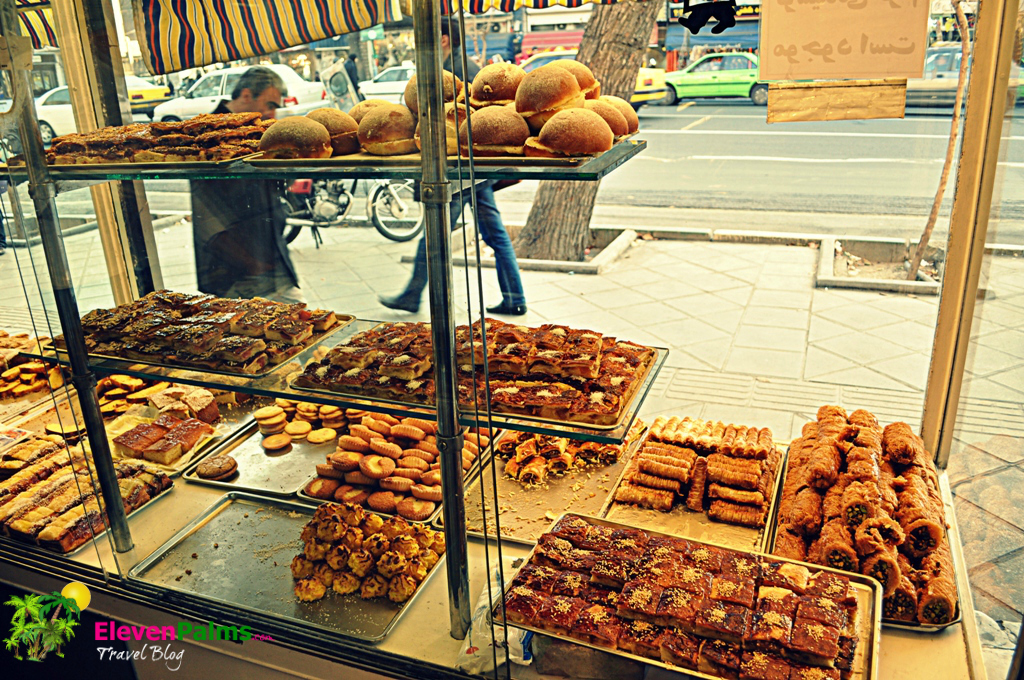 Then there're diners, where you can often get a burger or a pizza. A burger and a cola cost about 40.000 rials. There're fast-food shops with hamburgers, chicken nuggets and other things. The portions are large and food tasted natural, which is always good news. But the service isn't fast, as everything's being prepared after you order. There're small restaurants where you can get a tasty and inexpensive rice kebab. The prices range from 150.000 for a rice kebab.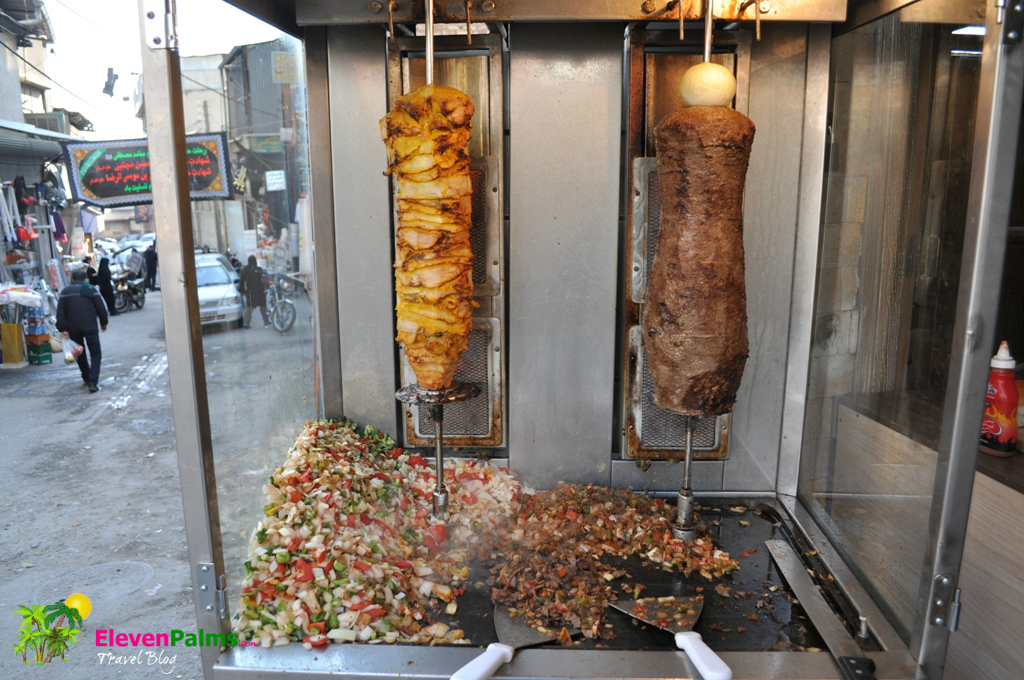 You can sometimes find vegetarian food sold from carts – baked beans and boiled beetroot. Barbeque is also made in the streets, the meat is then folded into thin bread. You can't really call it a pita, the taste's too good, it's much better and more delicious. You can also get fried corn at small markets. The Iranians also make cocktails of fresh fruit and milkshakes at street shops. A cocktail like that is healthy, it invigorates and is very saturated, it's a lot better than a casual habit of having a morning coffee. The milkshake costs about 20.000, a glass of freshly squeezed pomegranate juice is 50.000 rials.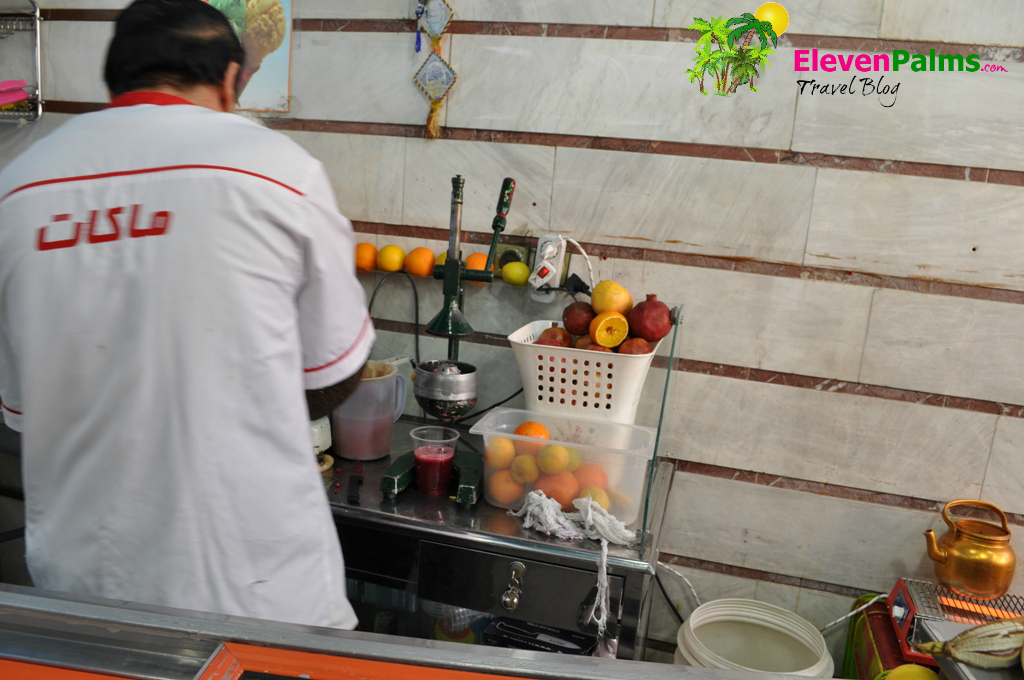 There are traditional Iranian «canteens», too, they carry a number of dishes to choose from. Nuts and seasonal fruit are also sold everywhere. A kilogram of pistachios is 40-50.000 rials, a mandarin is 30.000 rials.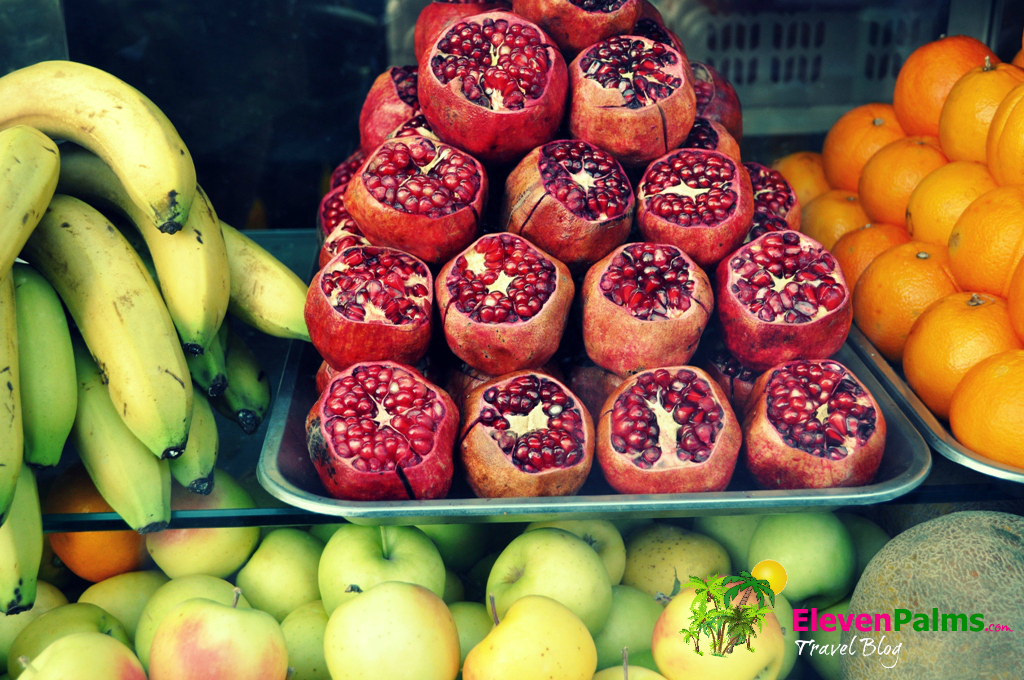 Mountains
Tehran is surrounded by mountains from it's Northern side, which is why you can't see them from just any spot in the city. Skiing and snowboarding are popular in the mountains. You can get to the elevators at Tochal mountain from the Tajrish square (it is the subway of the same name – Tajrish) by taxi, it costs 120-160 thousands of rials. It will take you to the parking. You can walk to the elevators from there, which will take quite some time, or take a bus there for 10.000 rials (yellow bus).
There will be a stop in the middle of the way with a café, walking areas and benches overlooking the city. Another bus, a green one, runs from this stop to the elevators, it costs 5.000 rials. The elevators working hours are from 8 a.m to 1 p.m., it is to 4 p.m. on Fridays, the ride is an extra charge. In the meantime you can take a nice walk there, look at the city from a height and have some ice-cream or sandwiches.
At the Tajrish square there's a beautiful mosque and a market with food and clothes, there's also a shopping mall at the market that sells European brands clothing.
We rented a car to go to Chalus. This town's situated on the coast of Caspian sea. The road there goes straight through the mountains and passes by a mountain lake, which means it should have been amazingly beautiful, but the road was temporarily closed. So we went to the mountains near Karaj, which was great, too. The road there leads through mountains and ends with Dorvan Jamme mosque, but we didn't get there, even though we took a lengthy ride and went far. It was a weekend in Iran and locals were having fun, enjoying their rest: riding huge car tires off tall mountains, making barbeque, drinking tea from thermoses, smoking hookahs, listening to music and pitching tents. You can really see the true side of people's lives and the city life during moments like these.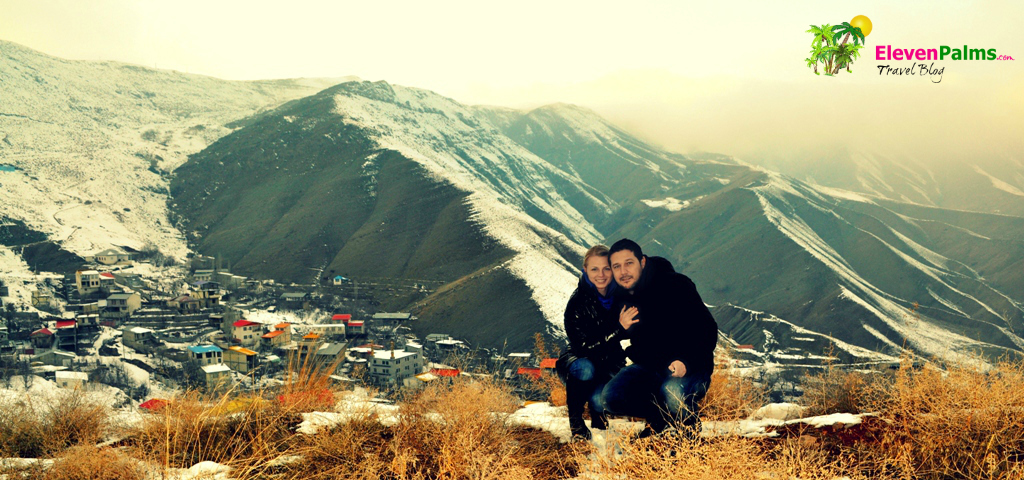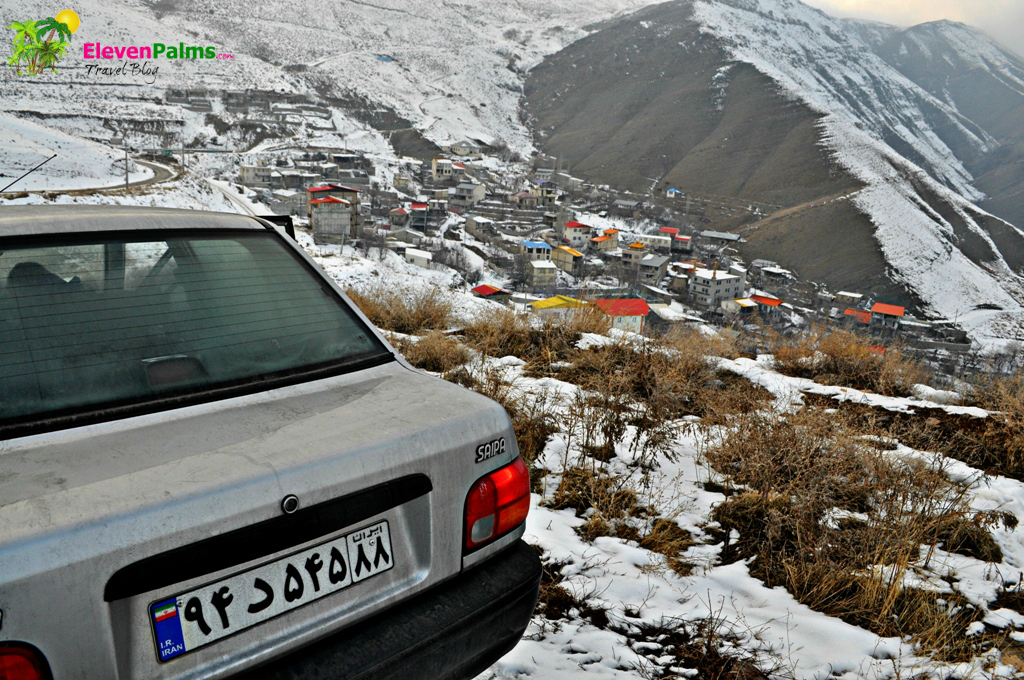 What to do in Tehran at night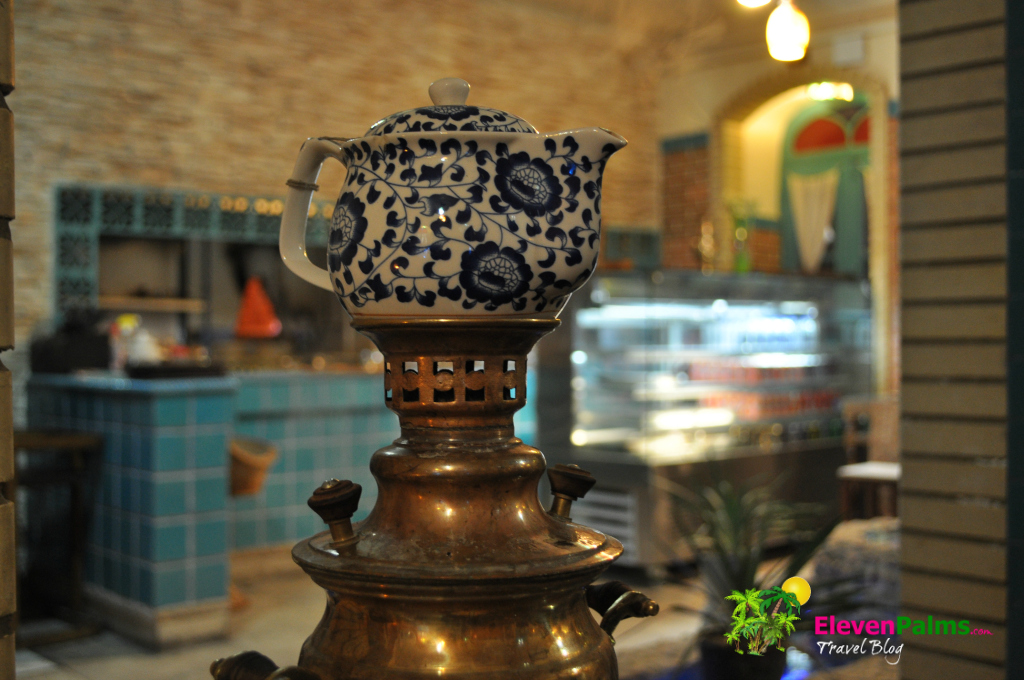 This is a very good question. There aren't many cafes around the city to sit at during the day, not to mention the nighttime. We found a few not far from our hotel. We stayed at Persia Hotel, it has a café with hookahs called coffee shop, which is open till 11-12 at night. There's also a restaurant, but the prices are higher than those in the city.
Another underground place where artists or people like that probably meet is a café with an unusual name «!?.» at Enhelab street, 793, not far from Alborz lane, right next to Saman bank.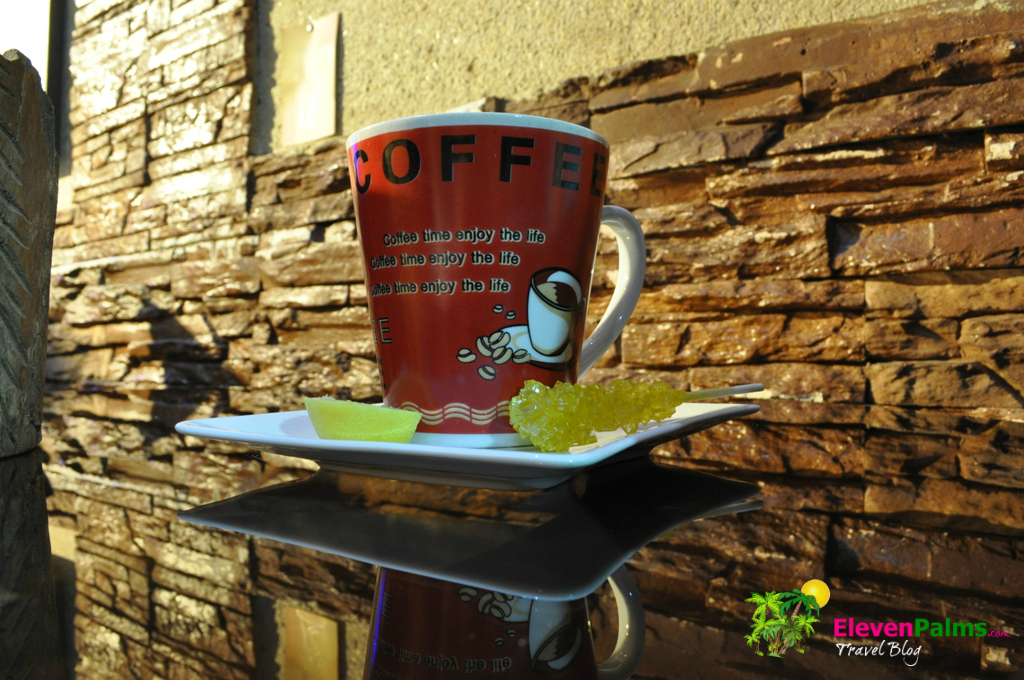 If you walk along the same side of the street to Ferdowsi subway, you will find another modern café «Thuluth» a couple meters along the way, though their card says it doubles as a restaurant of two-stories with hookahs, sweets and drinks.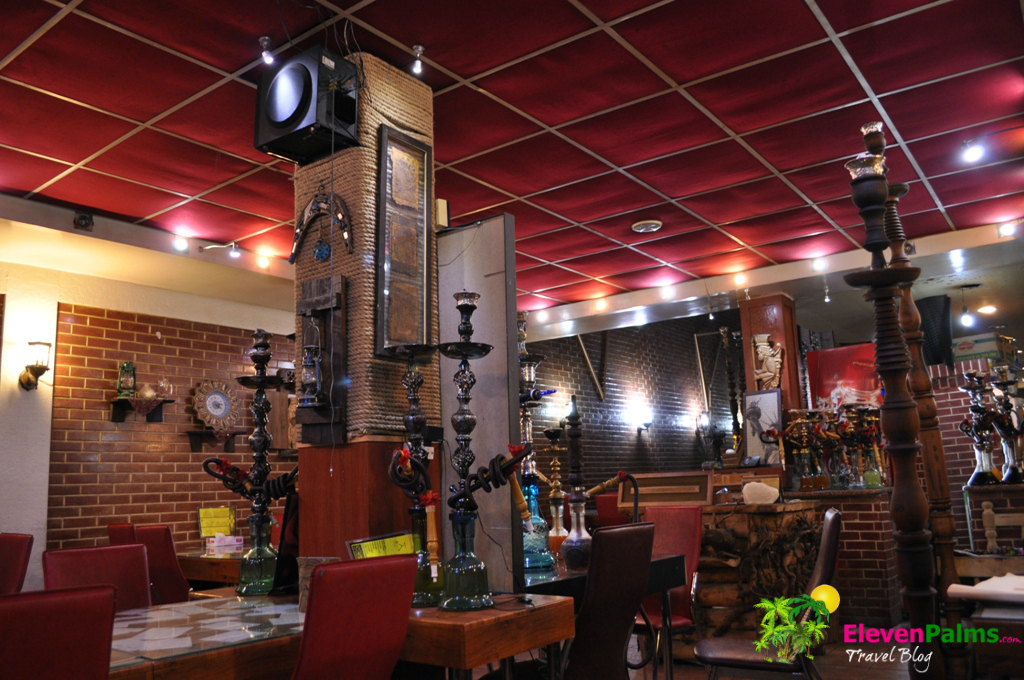 The more time we spend in Tehran, the more nice cafes we find in our area. If you walk along Ferdowsi street from Ferdowsi square, take the first turn on the right, to Zarrabi street, and you'll find Romace cafe (Zarrabi Alley, 4). The prices here're quite high (90-120 thousands of rials), but they have a great choice of delicious coffee. Food there looks very appetizing, too.
Next to it there's a staircase that leads down, into another restaurant called Piti Café. The serving sizes are big, the cooking is rather nice. 2 plates of rice, 3 kebabs made with different meat and a samovar of tea cost about 700.000 rials. That's pricey, but the atmosphere's nice, there're benches for two, which is unusual for the city, there's hookah hall, and you can definitely find baklava in their sweets menu.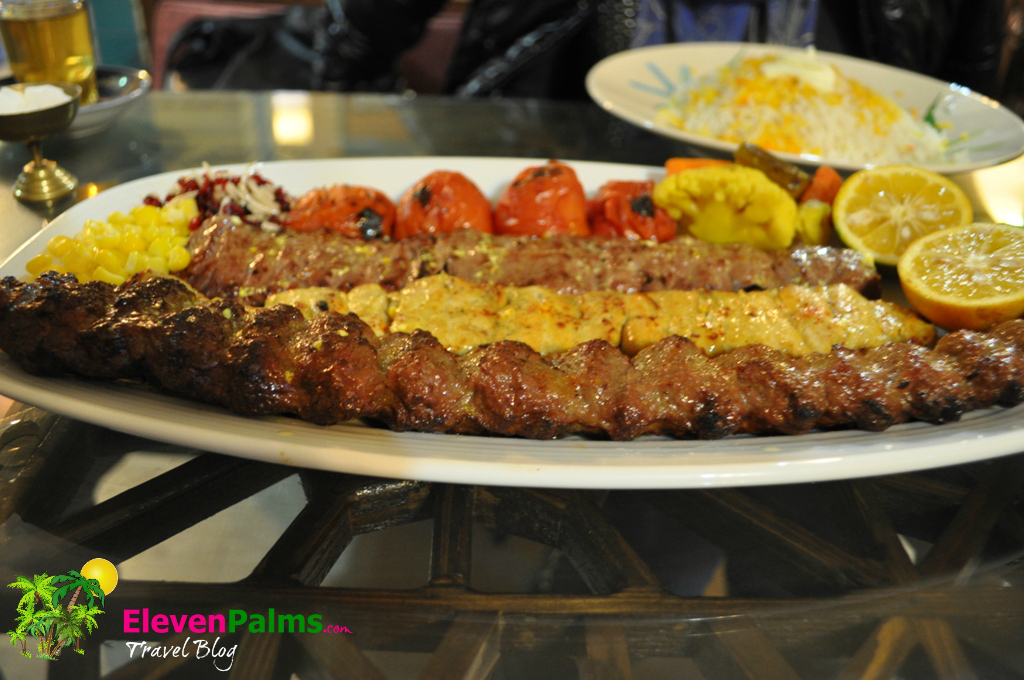 There's «Opera» coffee shop at Khark street, 48. It has the 1920-ies vibe to it: there're old TVs, cameras, other antique things, a man-made fireplace and wooden paneling, all of which gives the place a very cozy atmosphere.
We also tried to get into the Armenian club on (European) New Year's eve. It's situated at the beginning of Khark streer, 1. It is the only place where no Muslims are allowed and where women can leave their hair uncovered. But there were no reservations left there by the New Year's eve.
Cafes in the city are open till 12 a.m. tops.
Shopping in Tehran
Even though there're many markets, shops and shopping malls around, it is rather difficult for women to find clothes that matches European fashion trends, though there's lots of shops selling modern menswear. There's also a plethora of jewelry for the ladies, made of natural gemstones, gold and silver. As well as all sorts of knick-knacks, like hairpins, scarves and handbags – you can find loads of those.
What should you buy in Tehran (Iran)? Carpets – the choice is humongous and prices vary. Nuts and dried fruit, they're sold in the streets, at markets and in shops. The cheapest option is to buy in bulk, though there're beautiful assortments packs. And sweets…mmm…there's an amazing choice of confectionaries and candy shops in Tehran. There're cakes, baklava, candy, a plethora of other Oriental sweets I can't describe. They're sold in all kinds of beautiful packages of different weight – it is a great gift idea. Sugar also looked interesting, it bears on a stick as a lollipop in a shape of a crystal, there're these crystals, they're used to stir tea or coffee as it gives the drink a special taste, it can be sprinkled with cinnamon or other spice, it can be yellow or white (rock candy). It costs about 50.000 rials for 1 kilogram. There's another interesting kind of sweets called cotton candy – it is fibrous and looks a little like halva, but it's fibers instantly melt in your mouth. It comes in boxes and bags, 30-50.000 per bag. There's also traditional Turkish delight of different colors, 45.000 for a kilogram, if it's in the form of sausages with nuts – it's 80 thousand. There's also some type of candy/cookies made of sugar, flour, saffron, eggs and nuts – the taste's very interesting, a 200 grams pack costs about 120.000 rials.
Conclusion
There are religious holidays in Iran held from the 31st of December to the 3rd of January, so only few places are open. Few shops, some cafes, museums don't work, so you'd better check the holidays schedule before your trip.
I didn't have any clear image of Iran before the trip, and now, based on my trip to Tehran I can say that it is a very interesting and peace-loving country. Yes, they live having firm religious beliefs, but religion strongly unites them. Women cover their heads with shawls and don't go to clubs, but men treat them with great respect. Europe, together with the USA and Israel, has declared an economical embargo to Iran, and people here tightened their belts and kept on living and fighting, while remaining an independent country. Iran turned out to be another tough cookie America didn't manage to swallow. As a result, the US pulled Europe into it's game, declaring an embargo and spreading absolutely untruthful information in mass media. It is also known that CIA has made a few attempts to organize a currency collapse in order to destabilize the situation in the country, but the Iranians are very closely-knit people and the Americans' plans failed. We can't but respect the Iranians for that and follow their example. Iranians stand their ground and want to live their life on their territory and they understand perfectly well, that the whole gang including the US, Israel and the European Union is only interested in money, oil and cheap work force. The way the European Union is mercilessly using Balkan countries, per say, can be clearly seen if one goes abroad more often with cultural objectives, instead of just going to Poland for a shopping tour.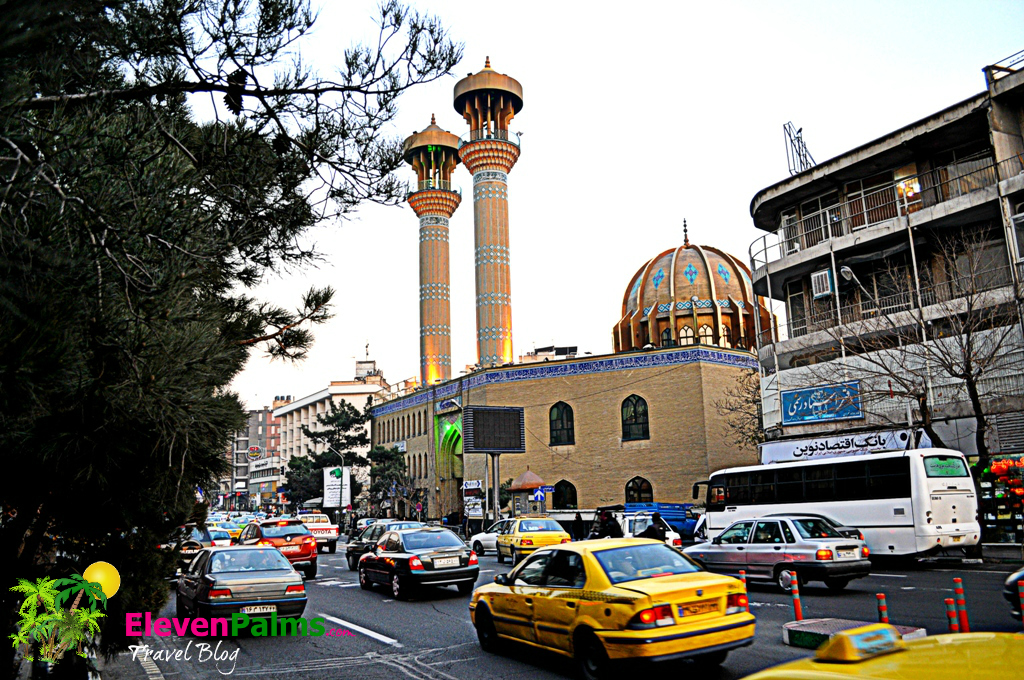 The entire time we were on a vacation, we managed to meet only a few people who could speak good English. Everyone else knew a word or two, but all of them really wanted to help. And they did! Therefore I can honestly say that Iran is a country you can visit without knowing any foreign languages, you might not get much use out of them, anyway)
People are friendly, they offer a seat to elderly on public transport and help each other. It might be because of their religious views, but Iranians won't start a conversation with you first, they are more likely to modestly glance at you. Men won't try to sit closer to a girl on public transport, they can even take a different seat to let a couple sit together.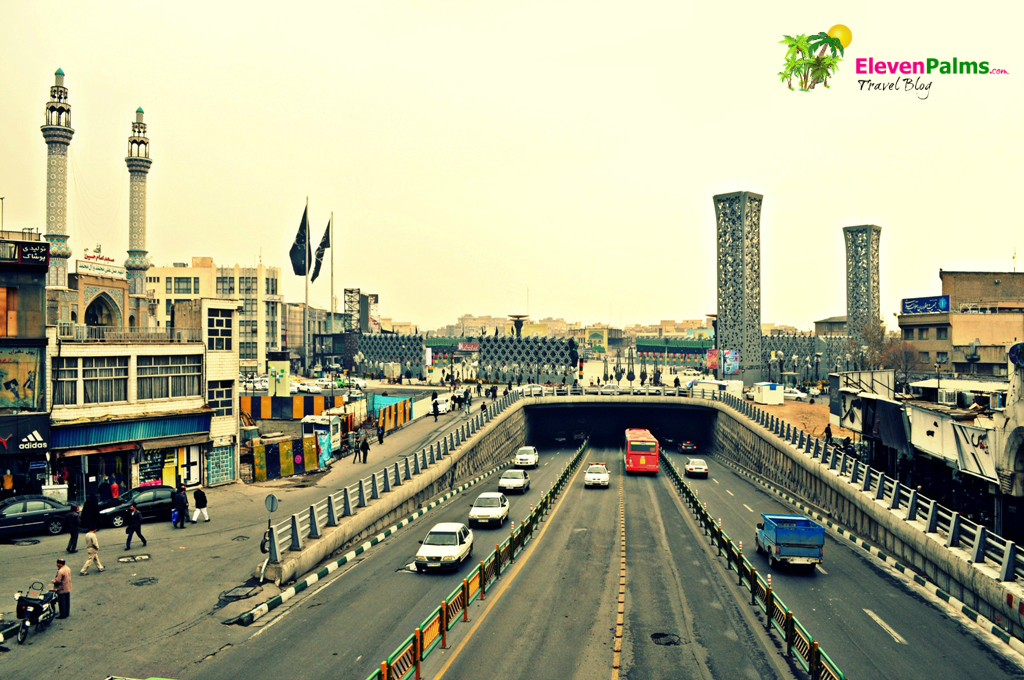 I also got an impression that they don't really have neither really poor, nor very rich people there. The difference in social status isn't so clear. For example, merchants walk around in subway carriages pretty often, offering some knick-knacks, but, first of all, they don't look shabby and secondly, people casually buy their goods. There're millions of small shops in the streets, you can sometimes come across a street where people only sell musical instruments or only car parts, but a mix of several types is also quite common. They aren't trying to get into a big shopping mall, they just buy things as they go, as the choice is huge. And because of such system, money is evenly spread among the population. And there isn't a case where several people handle the trading or the industry of an entire city themselves, the situation we can often see in Europe and soon, probably in our country as well.
Alcohol in Iran is under a strict prohibition, but the locals say one can still find it. Though one might be jailed for that. On the other hand, there's no drunk-driving, drunken fights or murders. All and all, the criminal situation is completely calm there.
I will gladly return to this mysterious country to, at least, visit such ancient cities as Shiraz, Isfahan, Yazd, and just to simply travel the country some more. Thanks to cheap fuel, the flights across the country are rather inexpensive, and it's even cheaper and more pleasant if you go by car. Be sure to download a GPS map beforehand or you might get lost. Some Internet sites are also blocked in Iran, the ones like facebook and so on. It's great to travel on your own! It means that you don't have to pay extra fees to agencies, you don't have to depend on anyone and you can rest where you want to. Have a nice trip to Iran!
(Visited 379 times, 1 visits today)